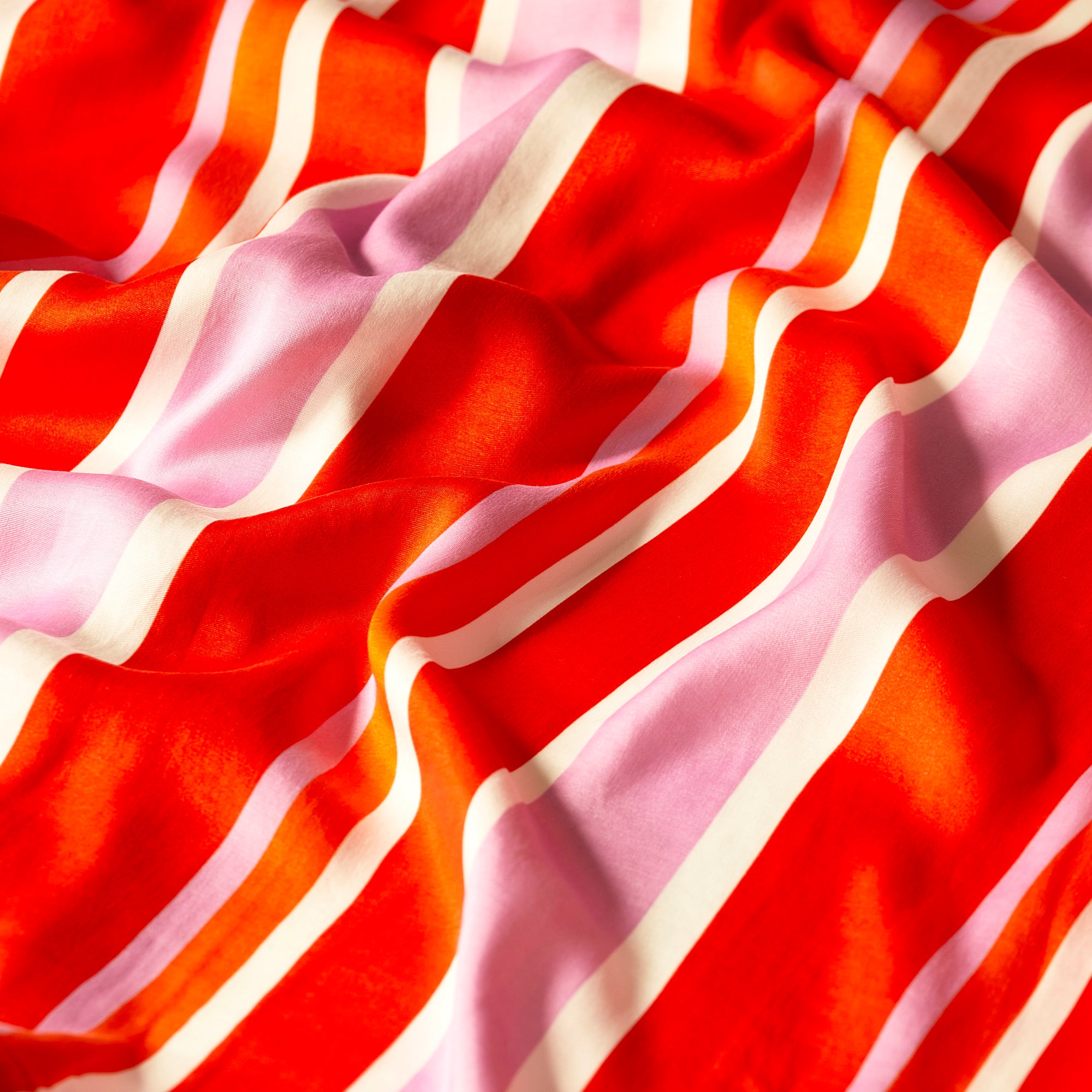 DEEBA /d i: b ə/
The concept for DEEBA was cultivated in India; born from the architecture, colours and craftmanship that ring out from all corners of the City of Jaipur. The name 'DEEBA' to mean an Indian girl's name but also 'silk', is the material in which brought our original designs to life. The fabric has long been known for its vibrancy, fluidity and luxury appeal, an aesthetic to which DEEBA has now become synonymous for.
Silk boasts benefits to our skin, our sleep, our allergies and our breathability, whilst also being durable, a natural fibre and biodegradable. But whilst silk is where the DEEBA journey started, we have now evolved into supporting a new material, one that we feel even more confident in.
Vegan Silk
CUPRO ECOVERO was originally the proud fabric to our Vegan Silk Collection. But this fabric really means business. We have been so captivated by it, ticking both the style and substance boxes, that we will be rolling it out across all of our collections going forward.
CUPRO, from Japan, is a fibre produced from a traditionally wasted substance, cotton linter (the shell which enfolds the cotton seed) has been blended with LENZING's ECOVERO fabric, a fibre born from wood pulp. And whilst both materials need to go through a chemical and mechanical process in order to achieve the filament required, the suppliers practice stringent closed loop and zero-waste policies in order to be as gentle on the environment as possible.
 The wood in which ECOVERO is derived, is from certified and controlled forestry sources. The cotton to make CUPRO is aligned with the Better Cotton Initiative, the largest cotton sustainability programme in the world. Any solvents used are recycled. Any cellulosic waste is used as fuel to generate electricity. The material is cruelty and animal free whilst also using less water and producing less carbon emissions than most other natural fibres. Both CUPRO and ECOVERO have OEKO-TEX Certifications.
 Our vegan silk fabric is both responsible and thoughtful to our environment but to the communities we work with in our supply chain too. We want to make sure our supply chain is as transparent as possible, with all suppliers upholding stringent code of conducts which respect human rights, fair wages, diversity, inclusion and encourage employee engagement workshops at every level so as to better understand and cultivate a culture of positive growth.
Then, there's the fabric itself. It is machine washable, biodegradable, anti-static, moisture controlled, durable, resilient, gentle on the environment as well as being effortlessly fluid, vibrant and soft, remaining luxurious to feel and touch. It is silk but without the stigma.
We selected this fabric because it aligns itself with our mission at DEEBA: to be free to use bright, bold, beautiful and harmonising colours and patterns that not only look and feel luxurious but are thoughtful, responsible and gentle too.A lot of care, consideration and hard work has created these pieces. We hope you enjoy them and can feel the love for yourselves too.
The Finishing Touches
Finding the most suitable fabric for DEEBA has been a focal point of our journey so far, but we have also paid close attention to the other things that make us proud of the brand that it is today.
 To bring our intricate patterns to life, we use digital printing. It is an exceptionally low waste option, using far less water, less chemicals and less energy than conventional techniques.  Then our pieces are stitched together by a trusted supplier in Turkey who has the following certifications to guarantee safe working conditions and fair treatment - SEDEX, ISO 9001, ISO 45001, ISO 14001.
 For our packaging, the gift boxes are made from recycled paper pulp and can be recycled after use or even better used for storage. Our Eco-Garment Bags stay away from the traditional plastic option. They are still a 98% transparent and clear material, but are non-toxic, biodegradable, compostable, safe for marine life and fully dissolve in hot water from 66°. Our swing tags are made from recycled paper. 
And finally, for our shipping bags, we use 'Compostable Mailers' from NoIssue, a sustainable packaging company and also DEEBA organic cotton tote bags, who help us to emulate a luxurious unboxing experience without the need for excessive non-recyclable and fussy packaging that we now find to be so wasteful.
Founder - Deeba London
A MESSAGE FROM GABRIELLA
I founded Deeba in 2019 after I left my job as a homewear buyer in London and booked a one way ticket to India.
Guided by creative passion and lifestyle I wanted to create a collection with seasonless, printed pieces at its centre.
Deeba's playful print design was originally inspired by wildlife, Northern Indian architecture and rich colours, and I continue to be inspired from my travels and exploring difference cultures.
My mission was to make beautiful loungewear that could be worn both in and out and make women of all ages feel confident and stylish but also comfortable. It was also, and still is, extremely important to me to educate myself and put into practice how to consciously produce and to give back.
As the brand has developed over the years the demand for dresses has increased so we are adding resort wear to the collection too, with hopes to expand even more as DEEBA grows.